Joe Elliott Blasts Rock and Roll Hall of Fame "Insulting" Selection Process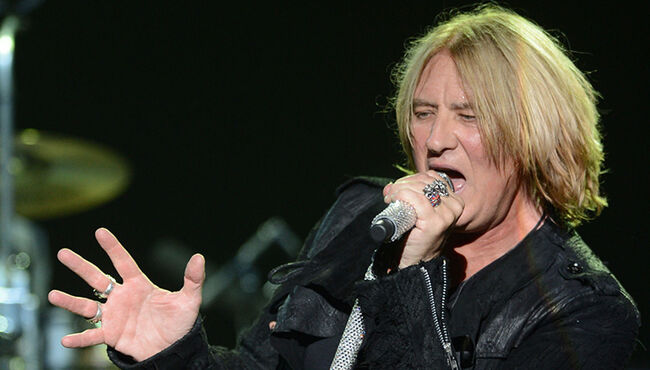 Def Leppard frontman Joe Elliott says the Rock and Roll Hall of Fame has repeatedly undermined its own credibility over the years with its notable omissions and baffling non-rock and roll inclusions.
Fans have been clamoring for Def Leppard to be included in the Hall of Fame nominations next fall, and Elliott addressed the outpouring of fan support on a recent episode of The Eddie Trunk Podcast. He also outlined what his problems are with the institution.
"I look at the Rock and Roll Hall of Fame and I look at those not in it and I go, 'Who decides that?'" Elliott said. "That's what I think is wrong. When it's, as I like to say, some guys in tuxedos behind a closed curtain deciding who's going to be in the Rock and Roll Hall of Fame it's not right. It should be voted on by people who buy their records."
Elliott says he understands the critical aspect of the Hall of Fame, and that it shouldn't just be based on record sales. But the Hall of Fame continues to induct pop and hip-hop artists (he offered Tupac as an example) at the expense of rock artists crucial to the story of the genre, like Lynyrd Skynyrd, which was eligible for years before finally being inducted.
"When you told the statistics that it took seven, eight attempts to get Skynyrd in, to me, is beyond rude, actually," Elliott said. "Not even ridiculous, it's actually insulting to a band that are a mom 'n' pop, apple pie, American dream band. Been around since '73, been through more hell than we could ever go through and everybody knows what we've been through. And yet they took God knows how long for them to get in."
Elliott says he and his bandmates would be humbled to be included in the Hall of Fame and would attend the ceremony if inducted, but he sees many artists more deserving of the honor who have yet to be inducted — and there's no good reason for it.
"You think about all the people that aren't in and I think, well, 'There's no chance that we're going to get in if such and such is not in.' So you kind of distance yourself from it going, 'Well, how important is it?'" he explained.
The most important thing, he says, is that Def Leppard is still together, still playing to massive crowds all over the world and it's only getting better.
"I look at our career, even after the '90s when it were really tough for us, it's getting bigger and bigger and bigger as years go by and we're not in [the Hall of Fame]. So it's not doing us any harm not being in, and I can't really see us taking some massive leap of popularity just because we do get in. If the kids vote us in, we will go. No doubt."
Def Leppard is on tour this summer with 2017 Journey, which was inducted to the Hall of Fame in 2017.
Photo: Getty Images