Angus Young Has "Earned the Right" to Continue AC/DC, Says Former Bassist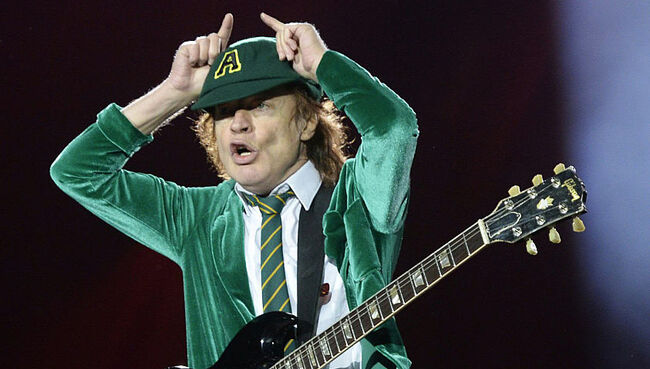 Former AC/DC bassist Mark Evans says Angus Young has earned the right to continue his band, even after shedding the remaining members of its founding/classic lineups in recent years.
Evans points out that since 1973, no one has played more AC/DC shows or written more AC/DC songs than Young.
"My point is Angus is the guy who's made it," Evans said in a recent interview with Metal Rules. "He's the guy that's been there all along. He's done every gig. He's the guy that's left to do and to carry on what [guitarist Malcolm Young] and [producer George Young] did. He's earned the right to do it exactly how he should want to do. I think we should respect the opinion if he continues on with it. If he doesn't continue on, I think we should respect that opinion too."
Evans, who played bass for AC/DC from 1975 - 1977, added that whatever Angus decides, the guitarist will make "the right decisions."
Rumors have persisted over the last year or so that Angus indeed plans to continue the band. Evans' Rose Tattoo bandmate Angry Anderson, along with several others close to AC/DC, have said they believe Angus plans to record a new album with Guns N' Roses frontman Axl Rose, reform the band and tour again.
Angus' brother Malcolm retired from the band in 2014 due to dementia (and passed away in November 2017). In 2015, longtime drummer Phil Rudd left the band due to legal troubles. (Rudd's first stint in AC/DC began in 1975.)
In early 2016, Brian Johnson (the band's frontman since 1980) left due to problems with his hearing. At the conclusion of the band's most recent Rock or Bust world tour, bassist Cliff Williams (in the band since 1977) retired.
Evans says he understand why some AC/DC fans were unhappy with the band choosing Rose — or choosing to continue at all after Johnson's parting of ways.
"AC/DC fans are invested emotionally, and they feel like they have some sort of ownership in the band because they've been fans for that long," Evans said. "And so that's why people are so passionate about it. Angus would appreciate people being impassioned about it. But you have to think everyone has different opinions and everyone's view would be different."
While Rose's inclusion in the band's current lineup was controversial from outside the band, the infamous frontman has gotten nothing but positive reviews from inside AC/DC's camp.
Drummer Chris Slade, who began his second stint in AC/DC after Rudd's departure, recently called Rose a "revelation" for the band.
"It fired up Angus also, especially in rehearsal," Slade told the Talk Is Jericho podcast with Chris Jericho. "[Angus] was running around the room playing with enthusiasm. Not that he isn't enthusiastic [normally]...you know...Stand up and play. But this was like, 'Wow, this is great!' Fired up beyond [normal]."
Photos: Getty Images