Former Ozzy Osbourne Guitarist Bernie Tormé Hospitalized With Pneumonia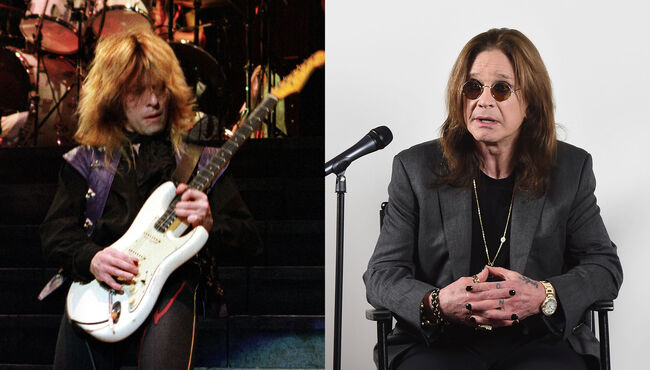 The guitarist whom Ozzy Osbourne credits with saving his career has been hospitalized with double pneumonia.
A Tweet from Bernie Tormé's Twitter account confirmed the news Wednesday and asked fans for their support.
"Bernie Tormé is extremely ill in intensive care with virulent double pneumonia," read the post. "We ask for your prayers."
The timing of the news of Tormé's health is more than a little eerie; Ozzy himself has been hospitalized with a severe flu for over a week and was rushed to intensive care over the weekend due to concerns of pneumonia.
Tormé released a double album called Shadowland last fall.
The Irishman Tormé got his first big break playing for Deep Purple front man Ian Gillian's solo band in the late '70s. He is best known as the guitarist who joined Ozzy's band immediately following the plane crash death of Randy Rhoads in 1982.
While Tormé was only in Ozzy's band through the end of that one tour, Ozzy has long credited him with saving his career.
"If it wasn't for him, I wouldn't be doing it now," Ozzy has said of Tormé. "I'd have given up."
Tormé was hired and on stage with Ozzy less than a week after Rhoads' death. Ozzy's management at the time was worried that if the front man canceled the rest of his tour, he would be emotionally and financially crippled for years to come.
While some fans recall Tormé being heckled on that tour — especially at his first Ozzy show at Madison Square Garden — the guitarist has said he has only good memories about Ozzy's fans, who have only continued being good to him over the years. Ozzy and Tormé reconnected last summer at Sweden Rock Festival.
"We had a lovely chat and laugh, just like meeting up with an old mate, nothing changed," Tormé said at the time.
Pneumonia is the eighth leading infection cause of death in the United States, killing about 50,000 people a year. A pneumonia diagnosis is particularly concerning in people over 65 years old, which Tormé is.
Hopefully he gets well soon.
Photo: Getty Images